There are several opportunities, with varying time commitments, for you to get involved with MENASA Student Resources. As of now we are working to develop the following, to promote student interaction within our community. 
Internships with MENASA
Alumni Network
Co-Sponsorships
Aggie Connection
Winter Quarter 2020 
A new course is being offered this Winter Quarter 2020 through First year Aggie Connections supported by the Interfaith Youth Core

Interfaith Exploration on College Campuses
CRN: 65537
Mondays, Memorial Union Room 442 (in Center for Student Involvement)
10-10:50 AM
1 unit, MSA 098

A ten-lesson course developed in partnership with Interfaith Youth Core, spanning the history of interfaith cooperation, through to what it means to put interfaith leadership skills into practice. We will be reading Interfaith Leadership: A Primer by Eboo Patel, and for the first 8 folks to sign up, we will provide the book. 
If you have any questions, do not hesitate to contact Kristin Dees  Kdees@ucdavis.edu or Affaf Waseem at awaseem@ucdavis.edu.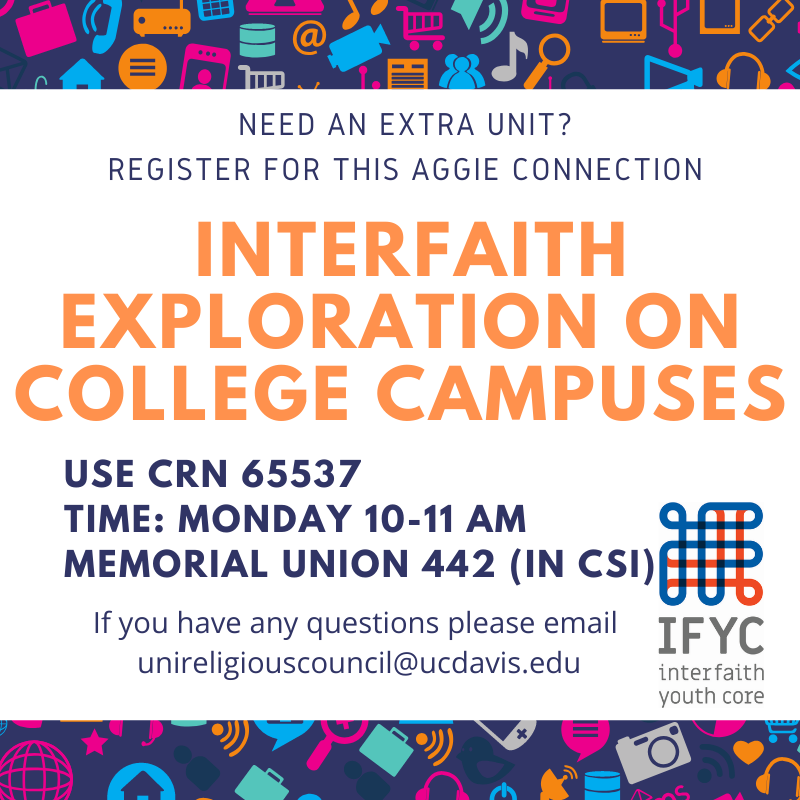 Fall Quarter 2019
The Middle Eastern, North African, and South Asian (MENASA) Identity and Academic Success is a First Year Aggie Connection seminar that supports the success of first-year and transfer students of Middle Eastern, North African, and South Asian backgrounds at UC Davis. Students will critically explore what their identity means to them, both on-campus and off-campus, and how their identity connects to how they envision academic and personal success. Through the course we will envision and create a plan of action on how to advocate for our respective identities and what our collective future could look like, while we simultaneously build community with each other through creative avenues.

This is a great way for you to make new friends, and expand your knowledge beyond what you know of your own identity and community that you come from. You will also learn the history of how this very unique grouping came into existence on the UC Davis campus.

The course also provides an opportunity for you to get acquainted with staff members who will be able to connect you with faculty members, write letters of recommendation, and connect you with future opportunities. The course will be taught by Affaf Waseem, Director of MENASA Student Resources.
The Aggie Connection will be held Fall Quarter on Tuesdays from 3:10-4 pm. It will be located in Olive Main in the Tercero Residence Halls area. 
To register for this course please find under MSA 098 and register with CRN 51630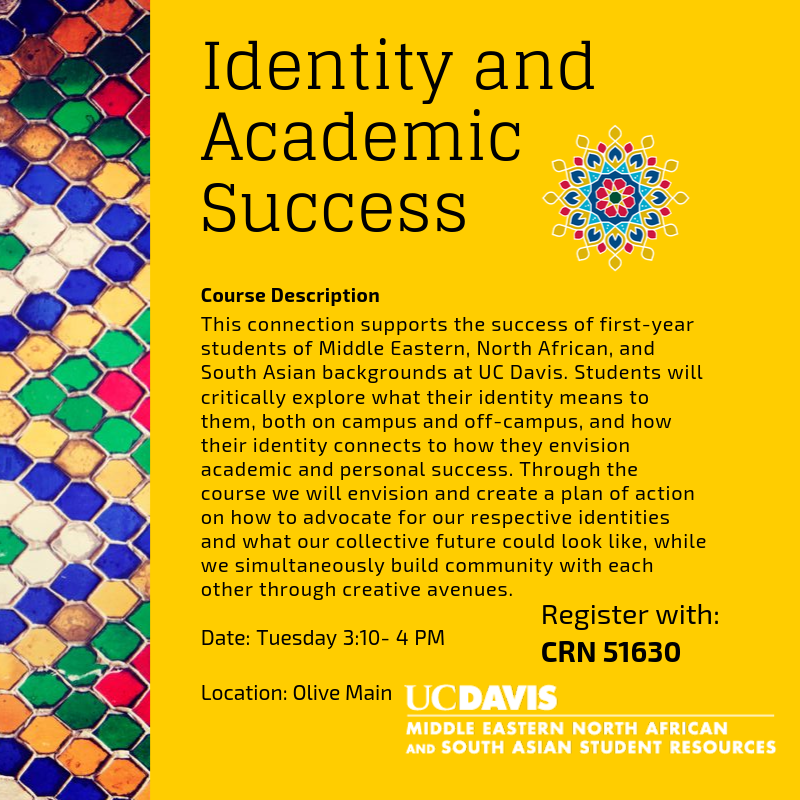 Get Connected
Email awaseem@ucdavis.edu to get more information on how you can get involved! Check back later in the year for more information or sign up for our listserv to receive updates.